As I get older, I find myself frequently wondering how it is that I continue to do so well with my original lungs? I'm 52, and my lung function has remained fairly stable for many, many years.  I'm actually quite superstitious about this subject and am almost afraid to write about it, lest somehow this causes things to change drastically as soon as I hit "publish." But the reason I've decided to discuss it is I happen to know that there is at least one factor that has greatly contributed to my health and has been totally under my control.  I'm under no illusion that I am in absolute control of everything CF related…I know that my DNA must contain some serious modifier genes working for me, for instance.  I also know that, unlike my older siblings who didn't do as well with their CF, my parents had stopped smoking by the time I rolled around, and this most definitely helped my little lungs when I was a wee thing.  These things are totally out of my control, and have certainly contributed to my run of good fortune.  But there are also a few things that I think I can (and should) take credit for and I feel like I almost have a responsibility to share them so that others will benefit as well.
Nobody forced me to get strong.  It was entirely my idea, and an odd one at the time.  It didn't just come to me through good genetics, either.  It took consistent, patient, diligent hard work on my part. It was 1980, and the big craze was to do "cardio" to get fit.  I drank the jogging Kool Aid and ran miles and miles to get my cardio in.  I will admit that my motivation to jog had absolutely nothing to do with CF back then; it had everything to do with vanity.  I wanted to be slim…if not downright skinny.  I absolutely hated running.  It was hard to breathe and I found nothing about it enjoyable except the feeling that I had when it was over for the day!  That feeling kept me hooked, though, and I kept at it.  Of course, this was an awesome way to treat my CF back then, and I'm sure it played a huge part my not requiring IV's until my mid-30's.  I did nothing else in terms of respiratory care…it was before the days of the Vest or flutter.  Pulmozyme wasn't invented, and hypertonic saline was only discussed in chemistry classes.  So, I jogged with the other lemmings, and cleared my lungs out this way.
But vanity (I must have had a lot of this) also led me to another form of exercise that was less popular, especially for 20-year-old women.  I started lifting weights.  And, I got strong…very strong.  I first became hooked when I noticed after a few weeks of arm weights that my shirt sleeves were tighter.  At first I thought the shirt had shrunk, but then my hand brushed against my upper arm and I noticed it was hard…as in muscular.  Whoa, I thought, this stuff works!  Then I started buying books about "women's weight training."  I learned all the exercises and started doing them.  Pretty soon, I was bench pressing my weight, and there would be times where I'd look around and realize that I was the strongest woman in the gym.  Now, this was a pretty amazing concept to wrap my "I have CF and will never be an athlete" brain around.  I still ran, because I started to realize it was good for more than just my pant size, but my fitness passion was all about weight training.
In my experience, there is nothing more empowering than realizing that I can do something physical as well as, or even better than, CFTR-able gym rats.  Lifting weights and the resulting strength gains did this for me. The gym became my "CF can't touch this" happy place.  Mind you, I am not talking about the "cardio" area of the gym. CF most definitely ruled in that place.  I'm talking about free weights, squat racks, and yes, even the dreaded barbell deadlift platform.  Strutting around the gym doing my thing three or four days a week was and still is a very effective coping mechanism I've fine-tuned after thirty-plus years of lifting while living with a nasty disease.
But beyond the immense psychological benefits, the absolute strength derived from weightlifting has provided countless physical assists in dealing with CF. I think it was the legendary strength coach, Dan John, who developed the metaphor of absolute strength being like a glass (the drinking kind).  The bigger the glass, the easier it will be to achieve your fitness goals, whatever they are.  He likens absolute strength to a container which holds everything else fitness related (mobility, strength endurance, flexibility, etc). The bigger the container, the more of these other qualities fit.  For example, if I can bench press 100 lbs, there is a very good chance that I can do many more push ups than someone who can only press 50 lbs.  I also likely have better shoulder flexibility and mobility.
I like to expand on his metaphor here, and say that the strength container holds many CF care related items as well.  If I have developed abs of steel by doing heavy front squats, I am willing to bet that my cough is stronger and I am able to clear more crap from my lungs than someone who has minimal abdominal strength.  If I have increased my thoracic mobility by doing heavy Turkish get ups, or jerks, I know that my chest wall mechanics are optimized for full lung expansion.  If I have built up some serious lean mass by lifting for hypertrophy, I know I have improved my glucose metabolism.  See what I mean?  Strength is a tremendous benefit, not  just for your psyche, but also for your ninja CF fighting skills.
Do cardio, by all means.  It shakes you up and makes you breathe faster and deeper.  This is great for airway clearance.  But do NOT neglect weight training and fail to take advantage of the amazing benefits of just being bad ass strong!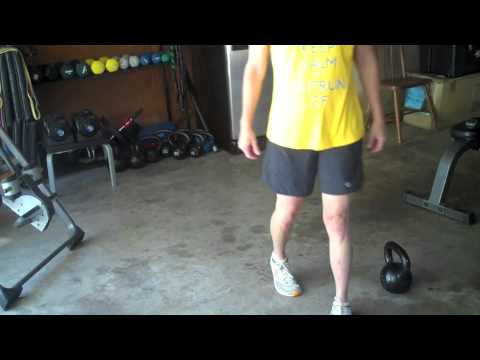 I know…it's not a word.  But it should be.  Especially if you have CF and you deal with the ups and downs of exacerbations followed by hospitalizations and the frustrating loss of all of your hard-earned fitness gains, there needs to be a unique word to describe what enables you to keep on plugging away at the goal to be fit.  I call it "mojovation."  I define it as the desire to get your mojo back.
I know you can relate to the following:  There you are lying in your hospital bed, all packed up and ready to go home, waiting the inevitable extra hour or two for some random event to happen before you can leave (a wheelchair that you don't need but is mandated by the hospital gods, your discharge meds that somehow ended up on the wrong floor, a nurse who needs to come in and "teach" you how to administer you IV's even though you are 10,000 times more qualified than she is to teach this shit, etc), bored to tears wondering what to do?  I have a great idea.  This is the time for building your mojovation.
Face it, you lost your mojo as soon as you had to put the gown on backwards.  After a day or two of lying flat on your back, your quads probably started shaking when you got up to pee, even though you squated 180 lbs the week before you got sick.  You have likely lost five pounds of muscle in a fraction of the time it took to accumulate it, and your skin has taken on the color of hospital eggshell white.  You want to smash the tiny mirror above the tiny sink in the tiny bathroom and scream at the unfairness of it all, but you know this would result in further delay of your discharge as you would then have to wait for the psych consult. I say, harness this anger and grab a pen and paper…or your iphone if you are younger than 40 years of age and have forgotten how to use a pen.  Your mojo is not gone forever…you just need to locate it.
I learned the following exercise from Dr. Heidi Grant Halvorson, a social psychologist who researches, writes, and speaks about the science of motivation. Since we are speaking of regaining your fitness mojo temporarily lost in Tropical Storm CF, I'll use a related goal in my example using Dr. Halvorson's techniques.  The first thing to do is write down your goal.  Make it specific and make sure it is something that you not only really WANT to achieve, but also something that you are confident you CAN achieve.  Then ask yourself, "how will I know when I have reached this goal?"  If you don't know, go back and work on it until you can answer this question.  Assume, for example, that my goad is "I want to squat 180 lbs again." This is specific…I will know when I've done it (ouch).  I both want to do it (to prove I am bigger and badder than CF) and know that I can do it (I already have).
Now that the goal is defined, Halvorson suggests doing something called "mental contrasting." I list 4 reasons this goal is important to me, in order of magnitude of importance. Then, I'm to write 4 obstacles, again in order of their obstacle-ness.  New word.  The hardest obstacle to overcome is number one, next hardest number two, etc.  This is easy enough.  Then I write a paragraph expanding on the number one reason this goal is important.  I go for it and just write whatever comes to mind.  Next, I do the same thing for obstacle number one.  Then, again I write about reason to do this goal number two, followed by obstacle number two.  So, four paragraphs in total.  I can stop here.  According to the research, this exercise makes my brain able to hold two ideas at once!  Who knew?  I am able to face an obstacle squarely when it arises, but still retain that little voice telling me why my goal is important and not run and hide at the first indication that life is not always a piece of cake.
The next idea is the gem and really the best part of this whole article.  There is a very simple planning task that, if you do, increases your chance of reaching your goal (assuming it is a goal that you really want and one that is achievable) by 150%, according to numerous research studies.  It is so simple that when you read it, you will say, "no way that is going to work."  I know, that is what I said too.  But the fact that I am actually writing this is proof that it works!  The exercise is called "if/then" planning. Very simply, I come up with the time and place I plan on accomplishing the task I want to achieve, and write it down.  That's it.  My first attempt at this was very small–and I suggest you do the same thing.  I decided that "when (you can substitute when for if) the coffee is brewing, then I will do my morning stretching."  Morning stretching is something I know works well for me, but I often forget…or am too lazy… to do.  My if/then plan worked like a charm on this first test drive.  I was successful every day for a week, seemingly without any effort on my part.  It just happened.
Next, I tried, "when I drink my first cup of coffee, I will write in my journal."  Again, it worked like a charm.  Magic.  In the past, my journaling efforts have gone roughly the same as my old Buick Skylark, which tended to die every time I turned left. Suddenly, I now automatically sit down with my Bulletproof coffee and write away.
My current if/then strategy is, "if I am Vesting, I will also be writing something in my blog."  Oddly, this works in the morning (now), but I am having trouble with it at night.  So, this will be the topic of my next blog post…willpower, use it and/or lose it.
So now, back to the exercise goal you want to create while you are waiting to rolling out of the hospital.  First, try the mental contrasting writing exercise about why you want to regain your lost fitness, and what obstacles you will need to overcome.  Then, use the magic if/then technique.  Remember to start very small…test the waters a bit.   Take a tiny baby step in the direction incredible Superman/woman fitness levels. Something like, "when I wake up in the morning, I will do ten pushups," is a great example.  Remember, make it very easy!  Then, after it becomes automatic, add something that is a bit harder…just a tiny bit.  These little steps build confidence in yourself, which remember is very important when it comes to setting and achieving goals.
Give it a try, and let me know how it works for you!
There is little controversy regarding the importance of exercise to children and adults with cystic fibrosis.  In the twenty years since Nixon et al showed that higher levels of aerobic fitness was associated with a significantly lower risk of dying[1] numerous studies have documented the benefits of exercise, including: improved airway clearance, weight gain, improved cardiorespiratory fitness, increased work capacity, improved bone density, increased exercise tolerance, decreased feeling of breathlessness, and improved body image and quality of life.  Even those who are awaiting transplantation are encouraged to exercise as tolerated, since studies have shown that exercise both before and after lung-transplant surgery tends to make cardiopulmonary function more efficient, strengthen respiratory muscles, and ensure good bone density.
But perhaps the most significant reason to incorporate exercise in the CF care regimen was shown in the longest published study to date regarding this issue.  A three-year home based program including aerobic exercise three times weekly concluded that "pulmonary function declined more slowly in the exercise group than in the control group".2  Certainly with the exciting prospect of CFTR correctors and potentiators around the corner, it is extremely important to maintain as much lung function as possible until the day comes when CF becomes a controllable disease.
Undoubtedly, we (adults with CF) should exercise regularly, and parents and clinicians should do what they can to encourage children with CF to introduce this healthy habit as soon as possible.  But just as in the case of CFTR-able people, it is no easy task to convince those with lung disease to comply with an exercise prescription.  The first obstacle is one of motivation, and the second is the very real issue of time-management.  Neither of these are simple problems with simple resolutions; indeed, possible solutions change with the age of the patient and with the severity of the illness.  Additionally, the recommendations for mode of exercise are slightly amended as a patient ages.3
Pre-Adolescents  
The good news about young children is there is never an easier time to get them to move.  Furthermore, a caregiver's power to promote long lasting behaviors at this stage is enormous.  Children are wired to be active in short bursts; they play "anaerobically." They love to sprint or climb or do explosive movements, and then walk around to recover.  This is a perfect for children with cystic fibrosis, because research has shown that this type of exercise trains both the anaerobic and aerobic energy systems.  This type of play can also be performed for longer periods of time, due to the frequent rest periods.  This is significant because the most recent research in exercise physiology shows that it seems to be total volume of daily activity that has the strongest effect on maintaining lung function.  In other words, the more daily physical activity that a child is involved in, the slower their lung function will decline. Encourage anything that your child thinks is fun, and if possible, expose them to as many forms of exercise and sport as you can.  This not only keeps it interesting for them, it also is beneficial to train their growing bodies in multiple ways.  Some favorites are swimming, soccer, basketball, biking, jumping rope, rollerblading, games like tag or capture the flag, jumping on a pogo stick (one of my favorites), or a rebounder  (mini-trampoline).  The critical thing is consistent daily participation.  The recommendation for children with CF is no different from that for healthy children, at least 60 minutes accrued throughout the day.  At this age, it is also important that the intensity of the exercise be relatively high, as in a sport such as soccer, where there are frequent bursts of intense running, followed by longer periods of a walking recovery.
Motivation is usually not an issue with this age group, but if it is, delaying favored activities (screen time, reading, shopping) until after playtime works wonders.  Some children are extremely motivated by team sports and group activities, while others shy away from them.  If a child falls into the latter group, a pedometer may do the trick, or giving them exercise "points" or stickers and offering a great prize for accumulating a target number.  It is also very helpful (and healthy for everyone) to establish family rituals that involve exercise.  Weekend family hikes or bike rides are not just good for the children, they also establish exercise and time together as family values.
Adolescents
In both girls and boys, aerobic capacity begins to plateau during adolescence.  For this reason, it is important to train the aerobic energy system during this stage of development.  Aerobic exercise works the lungs, heart, and muscles, thus having a very powerful effect on the oxygen delivery systems in the body.  Historically, girls have been at a greater risk for a sudden drop in FEV1 during adolescence, so while exercise is important for both sexes, this is a critical period for girls in terms of health maintenance.  Unfortunately, it is also during adolescence that a significant difference in activity level develops between children with CF and healthy children, and this difference is even more marked in girls than boys. Low-level aerobic exercise, such as walking, biking, or leisurely swimming, can be extremely beneficial for building aerobic capacity.  In addition, this type of exercise can increase mucus clearance by up to 30%.  This type of aerobic activity can be increased substantially by simply having teens walk or ride bikes to school, or to a friend's house or other planned activity. Fitting as much simple, low-level activity into daily life as possible can slow lung function decline.  This is both time-efficient and can be a motivating fact to share with a teenager.
Exercising at a higher intensity is also beneficial, and can be much more tolerable and even enjoyable if done with interval training.  This is characterized by two to three minutes of exercise at a moderate intensity, such as jogging quickly or swimming a few laps, followed by a short period of rest for the heart rate and breathing to return back towards baseline, and then repeating this for several intervals.  This has the benefit of shortening the exercise session, a very important factor for busy teenagers.
Anaerobic training is also beneficial for adolescents.  In sports like soccer or basketball, there are periods of intense exercise (anaerobic) followed by lower level recovery periods (aerobic), so both energy systems are being stressed and therefore, trained.  Interestingly, adherence to this form of exercise has been shown to be very high, so kids actually enjoy this type of activity.
Finally, I would be remiss not to mention the myriad benefits of strength training for young men and women with CF. A study recently completed at the Hospital for Sick Children in Toronto shows that upper body strength and anaerobic capacity are significantly related to FEV1.3  Increased muscle mass, which results from weight training, leads to positive health benefits, both physical and psychological.  Just as in anaerobic-based sports described above, when lifting weights, the anaerobic system is tasked during the lifting set, and the aerobic system is pushed during the rest phase between sets.  On a personal note, it was when I discovered strength training as a young college student that my lifelong "addiction" to exercise took root.  Understanding that this was one area where I felt control over my body, where my cystic fibrosis could not hold me back, was by far the strongest motivator to exercise I have ever felt.  And I am female, lacking the benefit of testosterone!  Imagine how significant it could be for a young man, perhaps smaller than his peers, to discover an activity that he could do to reliably increase strength and muscle mass.  As I'm sure we all painfully remember, self-esteem is at its most vulnerable state during adolescence, and when you have a chronic illness, this is magnified.  Depression and increased stress are definitely issues to contend with as teens with CF navigate increased time pressures, possible delayed puberty, and increasing health challenges.  Exercise is known to increase self-esteem in children with cystic fibrosis, and is also a very effective way to deal with depression and stress.
Just as with younger children, variety improves the interest level and the overall benefits of an exercise program.  If a teenager is inclined toward team or individual sports, this is ideal.  If not, encouraging as much low-level activity in daily life, introducing interval training, and encouraging resistance training is my recommendation.  Whatever the choice of activity, adolescence is the time to emphasize the importance of habitual, daily exercise as a central component to the routine management of their cystic fibrosis.  Hopefully, as they notice that they feel and look better when they exercise, your teenager will develop the internal motivation to continue this habit into adulthood.
Adulthood
The most exciting piece of information I've seen in researching this topic comes from Toronto, where new interesting and not yet published research that shows that in a seven year follow-up, FEV1, lung function, and habitual physical activity are closely related, and the people with the highest levels of physical activity have a 50 percent slower rate of decline of lung function (emphasis mine).3 For adults with CF, this means one thing:  move more!  Incorporating physical activity into your daily routine should be as important as your other therapies.  Walk as much as you can.  Ride a bike.  Swim.  All of these activities have well-documented positive effects, both CF-specific and non-CF specific.  For example, regular exercise both helps with airway clearance and has been shown to be as effective as medication in treating depression and anxiety.  For women especially, weight bearing exercise such as walking, jogging, or weight lifting can help stave off osteoporosis.  In non-CF subjects, weight lifting improves insulin sensitivity. It isn't known if this is true in CF, but it certainly could be. Most importantly, regular exercise improves the quality of life and perception of well being, and what can be more important as an adult with CF?
For adults with CF, the exercise recommendation is for "concurrent exercise," which is medical-speak for cross training.  This means it is best to incorporate many different forms of exercise throughout your week.  Strength train at least twice a week, work aerobically, at both low and moderate intensity as tolerated, at least three or four days a week, and try to incorporate flexibility and mobility work into your routine on several days.  I recommend that people aim for 30 minutes per exercise session, but then also incorporate more movement throughout the day.  Obviously, if you have more severe lung disease, you should consult with your doctor as to the need for O2 supplementation or any contraindications to exercise.
There are three important exercise considerations that apply to all age groups.  First, if you are sick, don't workout.  While it may seem macho to do so, and healthy people can get away with it, exercise would be an added stressor to an already-taxed system.  If you can, continue with low-level activity such as walking, so that you don't decondition quite as much, and then begin again when you are healthy.  Secondly, make sure that with increased physical activity, you or your child with CF are also taking in enough good quality calories to maintain the appropriate body-mass index.  Even though exercise correlates strongly with lung function, so does nutritional status, and it would be counterproductive to sacrifice an optimal BMI in your pursuit of fitness. Finally, with increased exercise comes the need for fluid and electrolyte replacement. Especially when exercising in heat or for a long duration, this cannot be overstressed.
Clearly, I am a big fan of exercise.  I firmly believe that one of the reasons I have enjoyed such good health as a DDf508 is that I made it a daily habit over 35 years ago.  But now, it is not just me and other adults with CF who have seen exercise change their lives, preaching about the need for everyone with CF to add this to their treatment regimen. Research is proving us right, and even giving clues into the mechanisms of the benefits of exercise.  As a fifteen-year-old, I didn't know that my jogging was causing my ENAC channels to be down regulated, thereby increasing airway surface liquid. All I knew was that it made me feel great!  I became hooked, and I'm still here, writing about it.
Of course you can!  Who can't find 20 minutes to spare?  This is what I do if my day is booked, there is not a chance I can get to the gym, and I need to break a sweat to maintain my sanity.  It is short, but it is not easy.
Basically, you pick one exercise for each of the SIX basic movements that human bodies are designed to do: a squat, a hip hinge, a push, a pull, a twist or anti-rotation move for the abs, and a single leg move.  Pick your favorites, or get crazy and try something you never do.  You will do three supersets of paired exercises.  In a superset, you move from one exercise directly to the next with no rest.  THEN, you rest, and repeat the superset for a specific number of times.  Huh?  Never mind. Here are the pairs
Squat move + Twist or Abdominal stability (examples below…or come up with your own!)
body squat x 15 followed immediately by front plank x 60 seconds
kettlebell goblet squat x 8 followed immediately by Russian twist x 16
dumbbell squat x 12 followed immediately by side plank, 30 sec/side
Pick one of these combinations, and do three supersets, resting only 60 seconds between each.  The grand total of time for this superset pair should be around 6 minutes or less.  Then, move to the next superset pair.
Push + Pull (examples below or come up with your own!)
Push Up x 10 followed immediately by horizontal rows x 8 (I use my dining room table for these)
Dumbbell military press x 8 followed immediately by pull ups x as many as you can do (this number will go down with each superset!)
Dumbbell chest press x 8 followed immediately by bent over dumbbell rows x 8 (use heavy dumbbells)
Again, pick ONE of these and do three supersets resting only 60 sec between each.  Six more minutes.  Last superset coming up.
Hip hinge + Single leg exercise  (examples below or come up with your own!)
Dumbbell or Kettlebell Deadlift x 8 followed immediately by alternating forward lunge x 8 (with dumbbells) or 12 if bodyweight only
Single leg bodyweight deadlift x 6 each side followed immediately by alternating backward lunges x 6 each side  (with dumbbells) or 12 each if bodyweight only
Kettlebell swings (my favorite) x 20 followed immediately by walking lunges x 8 each side
Same thing here:  no rest between paired exercises, but 60 seconds of rest between the supersets…three times.  Grand total…about 18 minutes. Use the 2 minutes for a brief warm up before you start…body squats, push ups, plank, or just run around the house for 2 minutes and have the dog chase you.
Of course, you can mix and match exercises or come up with your own.  The key is to move quickly between each exercise, and only rest between each superset.  Sixty seconds passes by very quickly.  I use my iphone to time the rest periods, just to keep me honest.
Try it and let me know what you think.