There is a movement afoot.  It goes by a few names; quantified self, biohacking, and biologging are a few.  The quantified self website has a tagline which sums up the purpose of this movement quite well, "self knowledge through numbers." By using technology, usually in the form of wearable tracking devices, data is acquired which allows the self-tracker to understand herself better.
A simple example is the popular Fitbit, which is a device worn somewhere on the body, depending on the model, that tracks steps taken over the course of the day.  It's fancier than a simple pedometer (the original self-tracker), in that it has a built in accelerometer, so the user can wirelessly sync to her computer dashboard and record sleep, calories expended, steps and miles walked, floors climbed, most active time of the day, and  of course even connect with fellow fitbit friends.  It's really amazing what you can track these days.
My recent foray into self-tracking involves first-thing-in-the-morning measurement of my heart rate variability, or HRV. I learned about the value of this measurement through my obsessive thinking about and planning my latest "comeback."  After the third bout of pneumonia this year, I guess I needed more than the usual amount of motivation, and was looking into the latest and greatest fitness gear/technologic toys to spice up the process a bit.
HRV measurement is definitely not new, but using it to enhance one's training is a relatively recent phenomenon.  It's been used for years in professional athlete circles, but easy to use cellphone apps for the masses are new. There are a few, but the one I chose is called "Bioforce."  Using a bluetooth enabled Polar heartrate monitor strap and this iPhone app, I've been watching my HRV steadily "improve" as I've slowly but surely increased my training intensity since rolling out of my room in the wheelchair (why do they have that rule?).
So what is HRV? In brief, there is a normal rhythm to the heartbeat that is a bit different from the constant "lub dub, lub dub, lub dub" that you might imagine. Your heart rate is under the control of your autonomic nervous system, which is a good thing or else you'd have to consciously contract your heart with every beat.  The autonomic control of heart rate depends on a delicate balance between the sympathetic nervous system (think "fight or flight") and the parasympathetic nervous system (think "rest and digest"). As you inhale, the sympathetic nervous system is more in control, and as you exhale, the parasympathetic nervous system prevails.  As a result, when you inhale, heart rate speeds up just a smidge, and as you exhale, it slows down.  So when a regular heart rate monitor says your HR is 75, that is just an average of what it is over a given time period.  Really, it probably ranges from about 70 to 80, depending on your breath cycle.
Now it gets simpler.  A given measurement of HRV is a reflection of your autonomic nervous system, the balance of sympathetic and parasympathetic input, in the moment. Increased parasympathetic function is associated with higher HRV and aerobic capacity and has been shown to correlate to increased life expectancy (in "normals," i.e. they don't have CF).
Why is this useful? Well, when the body is stressed, sympathetic system is more prominent. This is why your heart and breathing rate increase, why you stop digesting food, why blood shunts to your muscles to get ready to fight.  It's all automatic.  When you are relaxed, parasympathetic control leads to the opposite effects. So HRV can reflect your body's state of stress.
Elite athletes use this measurement to tell them if they are overtraining. This is why HRV apps for your phone have been created. A given daily measurement will let them know whether they should train hard that day, or take it easy because their sympathetic control is too high, warning them that they are approaching the overtrained state.
But HRV can also reflect the body's state of inflammation, because there is a linkage between inflammation and the sympathetic nervous system. This is a bit complicated, because obviously you can have low grade inflammation and not have a flight or fight response.  But remember, we are talking about measuring a fine balance here, and a significant inflammatory process (such as a CF exacerbation) could very well tip the balance a bit, and this could be picked up by a measure of HRV, especially if you are your own control.  At least, this is my hypothesis.
So this is my N of 1 trial.  Basically, N of 1 is a clinical trial in which a single patient is the entire trial. I am running my own case study. And N of 1 trials are what the quantified self movement is all about.
What have I learned so far?  Well, for the first few days out of the hospital, my HRV was extremely low (green line is HRV, yellow line is heart rate, and blue is average).  This makes sense, as I was stressed and my body was WAY stressed.  Gradually, it has increased, with downward blips here and there:
The colors of the bars on the bottom of the graph have meaning if you are an elite athlete and basing your day's training on your HRV. Green means go hard, amber means take it easy, and red means take a day off because your body is in the danger zone of too much sympathetic input.
Here is what I have learned so far: My HRV goes down (bad) if I drink any amount of alcohol the night before.  This saddens me.  It also goes down if I am dehydrated, which is likely related. As you can see, I am supposed to take today off from training, but my take away is that the second bottle of Fat Tire last night was a really bad idea.
Okay, so I know I'm a nerd.  But I'm going to keep this up and watch what happens when I get sick the next time.  Maybe I'll have an early warning.  We'll see.
These types of experiments can be very enlightening.  What would be really cool though would be if those of us with specific questions (CF related) could share with others our experiences, and get immediate feedback from others with similar questions.  Do you think we could uncover some interesting results?  Think of the surfers' experiences leading to the development of hypertonic saline. More to follow!
One of my father's favorite sayings was, "I'm in pretty good shape for the shape that I'm in."  He was being funny of course, but these days, I can totally relate. It's all about perspective. Today, I'm thinking about what it means to be "fit" as I walk at a snail's pace on my treadmill and suck saltwater into my lungs, which are being violently shaken by my therapy vest.
If you use the biologic definition of fitness,
The genetic contribution of an individual to the next generation's gene pool relative to the average for the population, usually measured by the number of offspring or close kin that survive to reproductive age.

then I'm toast.  These genes were surgically stopped in their tracks decades ago.  On purpose.

If you get a bit less Darwinian, fitness could be described as:
The capability of the body of distributing inhaled oxygen to muscle tissue during increased physical effort.
This is getting closer to what I'm after.  But living with cystic fibrosis takes a special kind of fitness not intimated by either definition.  My favorite description of fitness is one I heard on a podcast yesterday, which was something like,
The ability to do what you need to do, given the exigencies of your life, and to have a little left over for emergencies.
In other words, to be in good shape for the shape that you are in.
The "exigencies" of our lives include things like constant immunological battles in our lungs, defective insulin production, and shitty (pun intended) digestion, to name a few.
To be fit with CF means to be able to thrive, given all of these complications…and then, to have something left should an emergency occur.
I have a CFit client who is a perfect example of CF fitness.  This woman is a runner, and also lifts weights and dabbles in Crossfit.  She's hardcore.  She related a story to me the other day which left me amazed.
She was running with a group of people crossing a bridge, when they noticed a child stuck on a log in the water below.  This was in Florida, and the water was swampy and apparently the home of many crocodiles.  The kid was unable to swim to safety, and was in a precarious position, to say the least.
So my client took off at a sprint, as she needed to run nearly a mile to get to where she could enter the water.  Then, she had to swim to the kid and keep him/her (I'm not sure) from being swept into crocodile territory until help arrived.
Now that is fitness!
If you are reading this thinking, "that could never be me," you are missing my point. If you have CF and are simply moving more each day in attempt to improve your health, then you are an athlete in training. You don't need to be a child-rescuing ninja. If you don't like to run, then walk, or swim, or cycle, or lift weights, or swing a kettlebell, or play badminton, or… something!  Prepare for that emergency.  It may be a kid in danger, but more likely, it's the next exacerbation.  Whatever it is, it will be in your best interest to be stronger than you are right now.  Unless you are my ninja CFit client…she's already in pretty good shape for the shape that she's in.
There is little controversy regarding the importance of exercise to children and adults with cystic fibrosis.  In the twenty years since Nixon et al showed that higher levels of aerobic fitness was associated with a significantly lower risk of dying[1] numerous studies have documented the benefits of exercise, including: improved airway clearance, weight gain, improved cardiorespiratory fitness, increased work capacity, improved bone density, increased exercise tolerance, decreased feeling of breathlessness, and improved body image and quality of life.  Even those who are awaiting transplantation are encouraged to exercise as tolerated, since studies have shown that exercise both before and after lung-transplant surgery tends to make cardiopulmonary function more efficient, strengthen respiratory muscles, and ensure good bone density.
But perhaps the most significant reason to incorporate exercise in the CF care regimen was shown in the longest published study to date regarding this issue.  A three-year home based program including aerobic exercise three times weekly concluded that "pulmonary function declined more slowly in the exercise group than in the control group".2  Certainly with the exciting prospect of CFTR correctors and potentiators around the corner, it is extremely important to maintain as much lung function as possible until the day comes when CF becomes a controllable disease.
Undoubtedly, we (adults with CF) should exercise regularly, and parents and clinicians should do what they can to encourage children with CF to introduce this healthy habit as soon as possible.  But just as in the case of CFTR-able people, it is no easy task to convince those with lung disease to comply with an exercise prescription.  The first obstacle is one of motivation, and the second is the very real issue of time-management.  Neither of these are simple problems with simple resolutions; indeed, possible solutions change with the age of the patient and with the severity of the illness.  Additionally, the recommendations for mode of exercise are slightly amended as a patient ages.3
Pre-Adolescents  
The good news about young children is there is never an easier time to get them to move.  Furthermore, a caregiver's power to promote long lasting behaviors at this stage is enormous.  Children are wired to be active in short bursts; they play "anaerobically." They love to sprint or climb or do explosive movements, and then walk around to recover.  This is a perfect for children with cystic fibrosis, because research has shown that this type of exercise trains both the anaerobic and aerobic energy systems.  This type of play can also be performed for longer periods of time, due to the frequent rest periods.  This is significant because the most recent research in exercise physiology shows that it seems to be total volume of daily activity that has the strongest effect on maintaining lung function.  In other words, the more daily physical activity that a child is involved in, the slower their lung function will decline. Encourage anything that your child thinks is fun, and if possible, expose them to as many forms of exercise and sport as you can.  This not only keeps it interesting for them, it also is beneficial to train their growing bodies in multiple ways.  Some favorites are swimming, soccer, basketball, biking, jumping rope, rollerblading, games like tag or capture the flag, jumping on a pogo stick (one of my favorites), or a rebounder  (mini-trampoline).  The critical thing is consistent daily participation.  The recommendation for children with CF is no different from that for healthy children, at least 60 minutes accrued throughout the day.  At this age, it is also important that the intensity of the exercise be relatively high, as in a sport such as soccer, where there are frequent bursts of intense running, followed by longer periods of a walking recovery.
Motivation is usually not an issue with this age group, but if it is, delaying favored activities (screen time, reading, shopping) until after playtime works wonders.  Some children are extremely motivated by team sports and group activities, while others shy away from them.  If a child falls into the latter group, a pedometer may do the trick, or giving them exercise "points" or stickers and offering a great prize for accumulating a target number.  It is also very helpful (and healthy for everyone) to establish family rituals that involve exercise.  Weekend family hikes or bike rides are not just good for the children, they also establish exercise and time together as family values.
Adolescents
In both girls and boys, aerobic capacity begins to plateau during adolescence.  For this reason, it is important to train the aerobic energy system during this stage of development.  Aerobic exercise works the lungs, heart, and muscles, thus having a very powerful effect on the oxygen delivery systems in the body.  Historically, girls have been at a greater risk for a sudden drop in FEV1 during adolescence, so while exercise is important for both sexes, this is a critical period for girls in terms of health maintenance.  Unfortunately, it is also during adolescence that a significant difference in activity level develops between children with CF and healthy children, and this difference is even more marked in girls than boys. Low-level aerobic exercise, such as walking, biking, or leisurely swimming, can be extremely beneficial for building aerobic capacity.  In addition, this type of exercise can increase mucus clearance by up to 30%.  This type of aerobic activity can be increased substantially by simply having teens walk or ride bikes to school, or to a friend's house or other planned activity. Fitting as much simple, low-level activity into daily life as possible can slow lung function decline.  This is both time-efficient and can be a motivating fact to share with a teenager.
Exercising at a higher intensity is also beneficial, and can be much more tolerable and even enjoyable if done with interval training.  This is characterized by two to three minutes of exercise at a moderate intensity, such as jogging quickly or swimming a few laps, followed by a short period of rest for the heart rate and breathing to return back towards baseline, and then repeating this for several intervals.  This has the benefit of shortening the exercise session, a very important factor for busy teenagers.
Anaerobic training is also beneficial for adolescents.  In sports like soccer or basketball, there are periods of intense exercise (anaerobic) followed by lower level recovery periods (aerobic), so both energy systems are being stressed and therefore, trained.  Interestingly, adherence to this form of exercise has been shown to be very high, so kids actually enjoy this type of activity.
Finally, I would be remiss not to mention the myriad benefits of strength training for young men and women with CF. A study recently completed at the Hospital for Sick Children in Toronto shows that upper body strength and anaerobic capacity are significantly related to FEV1.3  Increased muscle mass, which results from weight training, leads to positive health benefits, both physical and psychological.  Just as in anaerobic-based sports described above, when lifting weights, the anaerobic system is tasked during the lifting set, and the aerobic system is pushed during the rest phase between sets.  On a personal note, it was when I discovered strength training as a young college student that my lifelong "addiction" to exercise took root.  Understanding that this was one area where I felt control over my body, where my cystic fibrosis could not hold me back, was by far the strongest motivator to exercise I have ever felt.  And I am female, lacking the benefit of testosterone!  Imagine how significant it could be for a young man, perhaps smaller than his peers, to discover an activity that he could do to reliably increase strength and muscle mass.  As I'm sure we all painfully remember, self-esteem is at its most vulnerable state during adolescence, and when you have a chronic illness, this is magnified.  Depression and increased stress are definitely issues to contend with as teens with CF navigate increased time pressures, possible delayed puberty, and increasing health challenges.  Exercise is known to increase self-esteem in children with cystic fibrosis, and is also a very effective way to deal with depression and stress.
Just as with younger children, variety improves the interest level and the overall benefits of an exercise program.  If a teenager is inclined toward team or individual sports, this is ideal.  If not, encouraging as much low-level activity in daily life, introducing interval training, and encouraging resistance training is my recommendation.  Whatever the choice of activity, adolescence is the time to emphasize the importance of habitual, daily exercise as a central component to the routine management of their cystic fibrosis.  Hopefully, as they notice that they feel and look better when they exercise, your teenager will develop the internal motivation to continue this habit into adulthood.
Adulthood
The most exciting piece of information I've seen in researching this topic comes from Toronto, where new interesting and not yet published research that shows that in a seven year follow-up, FEV1, lung function, and habitual physical activity are closely related, and the people with the highest levels of physical activity have a 50 percent slower rate of decline of lung function (emphasis mine).3 For adults with CF, this means one thing:  move more!  Incorporating physical activity into your daily routine should be as important as your other therapies.  Walk as much as you can.  Ride a bike.  Swim.  All of these activities have well-documented positive effects, both CF-specific and non-CF specific.  For example, regular exercise both helps with airway clearance and has been shown to be as effective as medication in treating depression and anxiety.  For women especially, weight bearing exercise such as walking, jogging, or weight lifting can help stave off osteoporosis.  In non-CF subjects, weight lifting improves insulin sensitivity. It isn't known if this is true in CF, but it certainly could be. Most importantly, regular exercise improves the quality of life and perception of well being, and what can be more important as an adult with CF?
For adults with CF, the exercise recommendation is for "concurrent exercise," which is medical-speak for cross training.  This means it is best to incorporate many different forms of exercise throughout your week.  Strength train at least twice a week, work aerobically, at both low and moderate intensity as tolerated, at least three or four days a week, and try to incorporate flexibility and mobility work into your routine on several days.  I recommend that people aim for 30 minutes per exercise session, but then also incorporate more movement throughout the day.  Obviously, if you have more severe lung disease, you should consult with your doctor as to the need for O2 supplementation or any contraindications to exercise.
There are three important exercise considerations that apply to all age groups.  First, if you are sick, don't workout.  While it may seem macho to do so, and healthy people can get away with it, exercise would be an added stressor to an already-taxed system.  If you can, continue with low-level activity such as walking, so that you don't decondition quite as much, and then begin again when you are healthy.  Secondly, make sure that with increased physical activity, you or your child with CF are also taking in enough good quality calories to maintain the appropriate body-mass index.  Even though exercise correlates strongly with lung function, so does nutritional status, and it would be counterproductive to sacrifice an optimal BMI in your pursuit of fitness. Finally, with increased exercise comes the need for fluid and electrolyte replacement. Especially when exercising in heat or for a long duration, this cannot be overstressed.
Clearly, I am a big fan of exercise.  I firmly believe that one of the reasons I have enjoyed such good health as a DDf508 is that I made it a daily habit over 35 years ago.  But now, it is not just me and other adults with CF who have seen exercise change their lives, preaching about the need for everyone with CF to add this to their treatment regimen. Research is proving us right, and even giving clues into the mechanisms of the benefits of exercise.  As a fifteen-year-old, I didn't know that my jogging was causing my ENAC channels to be down regulated, thereby increasing airway surface liquid. All I knew was that it made me feel great!  I became hooked, and I'm still here, writing about it.
In the last post, I discussed the first of three very important essentials of gaining not just weight, but aesthetically pleasing and healthy weight, AKA muscle. If you missed that post, you can read it here.  In part II, I'll reveal the very basic and obvious second essential ingredient.  While obvious, this is the one that I personally have the most trouble with.  It's another case of a habit being very simple, but not necessarily easy.
You have probably guessed Rule Number Two by now.  If you are going to work your muscles with a well-designed resistance training program, you also need to feed them!  Muscle tissue is largely protein, and to build it up, you need to consume…wait for it…protein!  You very likely need to consume more protein than you are now.  The target I shoot for is 0.8 to 1.0 grams of protein per pound of weight.   But the weight number I will use is the weight that I'm aiming to reach.  So if I want to weigh 115 lbs, I would eat 90-110 gms of protein each day.*
But it's not just protein that is important.  You also need to consume calories in the form of fat and carbohydrate.  Basically, you need to eat more calories if you want to gain weight.  It is not complicated.  Sometimes, people get fancy, and calculate their exact resting energy expenditure, then multiply this by a factor that accounts for activity level, then add the exact amount that they expend in their workout, and then add the square root of the distance to the moon divided by pi.  Are you dizzy yet?
These methods may work fairly well for the general population, but as you know, people with cystic fibrosis don't follow the rules.  Our resting energy expenditure is way higher than normal, so I have a better method.  Write down EXACTLY what you eat for three straight days.  These should be days where you are not trying to gain or lose weight, but are simply in maintenance mode.  Record not just the type of food, but how much.  Then find a good online calorie calculator and add up the calories for each day.  Don't forget to include what you drink as well!  Those sodas add up.  Now calculate your average daily calorie consumption.  If the days are wildly different from each other, you may want to do this for a whole week to get a more accurate average intake.
Got it?  Now add 500 calories per day, and this is your new target.  So if I calculated that I eat 2000 calories per day, and I want to gain muscle in order to weigh 115 lbs, here is what I need to do.  First, my new target is 2500 calories, and of those, 440 are going to be in the form of protein (110gm x 4 calories per gram of protein).  So I also need to eat about 2000 calories—I'm rounding here–of fat (9cal/gm) and carbohydrate (4cal/gm).  OK, no more math.
The reason I am bad at this, and something that you, too, might struggle with, is that it is HARD to eat this much.  If you skip a meal, you get way behind on calorie intake and it can be nearly impossible to catch up.  So, eat early and eat often.  Never skip breakfast, or lunch, or dinner.  Have a snack before bed.  Drink calories.  Read the "How to lose weight" articles and break every rule.**
It's also hard to do this on the fly.  I've figured out that if I plan what I'm going to eat and make sure my strategy includes enough calories beforehand, I am much more likely to be successful.
Finally, the bane of my existence…pancreatic supplementation has to be fine-tuned for this to work.  Also, if you have CFRD, you will also have to figure out if and when you might need to adjust insulin dosages.  Close monitoring of blood glucose and, in my case, er…..digestion capacity, will help.  Bon appétit.
*Ask your CF nutritionist if this amount of protein is safe for you.
** Don't break the rule about not eating junk food. You are what you eat.  So eat real, whole, healthy food.
It's kinda crazy that it took four steps to get to "movement preparation," but this is just what active stretching is called.
Remember back in the days when you would hold static stretches before you exercised?  I still see people doing this…going straight from the locker room to the stretching mat and doing seated forward bends and holding calf and quad stretches before going to the elliptical machine or treadmill. We know better now.  First, it's not good to stretch cold muscles.  If you must do static stretches, it's much better to do five minutes of jumping rope or fast walking first, as the increased blood flow to the muscles helps to warm them up and may increase their elasticity.  It also turns out that stretching a muscle statically (holding the stretch for 20-30 seconds) may actually decrease its ability to perform strength and power moves.  So if you are intending to lift weights, it will benefit you  to find better ways to stretch prior to your workout, and do the static stretches at the end.
A better way to stretch cold muscles and get them ready to work is to stretch them actively.  This simply means to stretch your muscles while they are in the act of moving.  This is a dynamic process. Nothing is held for time.  You simply wake your muscles up by asking them to move into stretched positions.  A great example of this is the "inchworm," one of my favorites.  Here is a great example of this.  Notice that the hamstrings and calves get a great stretch as they are working.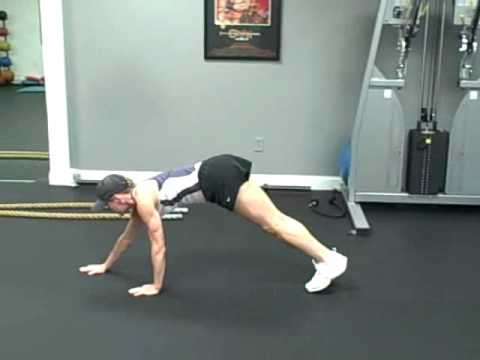 Another great exercise for the upper body targets the front of the shoulders and the upper back.  This is much harder than it looks, especially when you keep your butt, upper back, head, forearms, and wrists touching the wall the entire time.  Check it out here: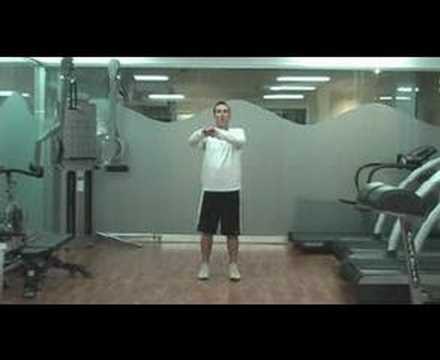 Walking lunges are a great way to warm up for running or lower body weight lifting.  To increase the stretch in the hip flexors, add a twist in the direction of the forward lunging leg.  Check this out here: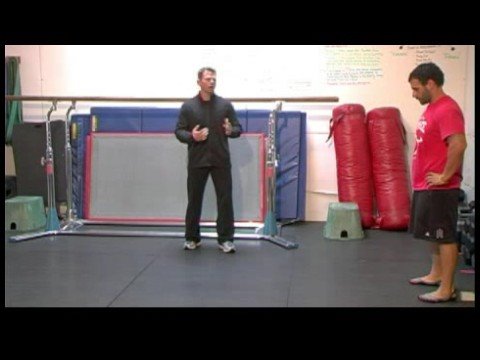 These are some of my favorite movement preparation exercises.  I will also do a few sets (if I am lifting weights) or a few minutes (if I am doing cardio) at a much lighter intensity level than what I do normally as more movement prep.  After all, the best way to prepare to do something is to do it…with a very light load.  This tells both your muscles and your brain to get ready for what is to come.